Trenchless Sewer Replacement Experts
Imagine waking up to the lovely sound of a jack hammer, and looking out the window to see a team of repairmen digging a giant hole in the middle of your prized rose garden. Just when you're about to scream out in horror, you wake up – again! It was only a nightmare. You pull the curtains aside and gaze out at your beautiful rose garden, which is still intact. All thanks to Drain Master Plumbing & Rooter services!
Trenchless sewer repair – with a lifetime warrant
Drain Master Plumbing & Rooter provides trenchless sewer repair, which means your underground problems are accessed and remedied without digging up your entire yard. Even if your sewer lines run below the driveway, Drain Master Plumbing & Rooter's team can facilitate the needed repairs without disrupting your family, and without turning your lawn into the neighborhood eyesore. Oh, and did we mention the Lifetime Warranty? All of our trenchless repair services are fully backed for LIFE.
Drain Master Plumbing offers both PIPE LINING and PIPE BURSTING technologies:
To repair a damaged pipe, Drain Master Plumbing & Rooter lines it with a resin that, when it hardens, creates an entirely new pipe! While other companies charge thousands to completely replace your existing pipes, Drain Master Plumbing & Rooter saves pipes that would have otherwise been nonfunctional. We are the only company in all of Los Angeles who is approved to use this technique, which truly makes us the Masters!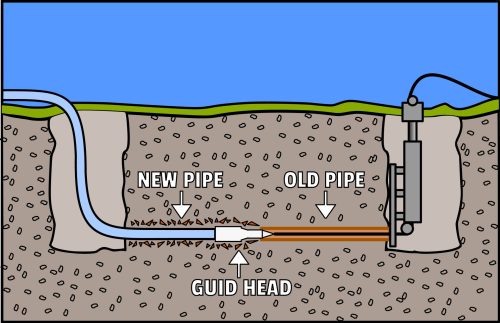 We are the best choice for affordable trenchless repiar services!
Los Angeles' trenchless sewer repair experts – lifetime warrantied underground repairs that save your garden, driveway and patio.